Our 4-Step Proven Process
Focus on Growth as Founder CEO and Scale with an Elite 2nd-In-Command.
Our 4-Step process frees Founder CEOs from the day-to-day management by matching you with an elite 2nd-In-Command, fast and risk-free.
This elite 2IC gives you back the time to focus on your vision and together build a better future and one of the world's best workplaces.
Our process is designed to get you free from the weeds and operating fully as the visionary CEO of your company.

Ready to begin?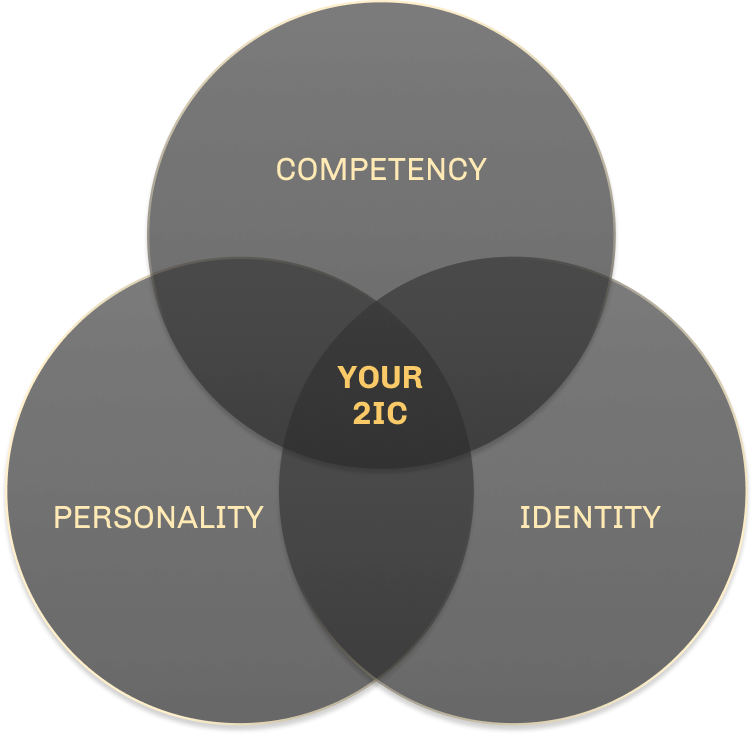 Define Your Right-Fit Counterpart with 2IC Compatibility™.
We work with you to define the role you need and get crystal clear on the identity, personality, and competency for your perfect-fit 2IC.

To do this, we assess three important factors:
Identity: Shows who you are, establishes your company and culture, and what your vision is, ensuring that your 2IC will fit and resonate with that at a core level.

Personality: Define your personality dynamics and the 2IC personality dynamics to ensure that they mesh, but also that you and your 2IC complement one another and that their strengths support where you are weak.

Competency: Making sure that they possess the five core competencies of a great 2IC.
The result? A clearly defined profile of the exact role you need to be your right-fit 2IC, share your vision and values, and have the core competencies to successfully run your business.
Find Your Match Fast with 2IC Network and Opportunity Recruiting™.
Our expert team of recruiters and business advisors work in lock-step with you on the art of finding your elite, perfect-fit 2IC.
We use every reputable channel available to search for and find the most qualified candidates, including our world-class network of pre-vetted, trained candidates. We also go to market and use other people's networks, including the top-industry job boards. And lastly, we work with you to leverage your network to see if anyone you know may be a good fit.
From there, we scientifically refine our list of candidates down to 2-3, zeroing in on the best talent so we can assess the chemistry between you.
With final candidates narrowed down, we help you objectively make the right hiring decision and confidently choosing a perfect-fit candidate to become your 2IC counterpart.
Onboard Risk-Free and Free Up 30 Hours Per Week with a Delegation Plan™.
Once your 2IC has been hired, we begin to develop a Day-to-Day Delegation™ plan for them to implement. This starts by first defining the relationship, getting clear on your roles, and how you work together in tandem without stepping on each other's toes.

Never missing a beat, we make sure your 2IC gets fully up to speed on your company, industry and anything else they need to know within the first 30 days.

A key deliverable during the Onboarding step is the Delegation Plan™ presentation. Here, our team works with your 2IC to develop and present a plan for how we will free up 30 hours of your week as CEO, guaranteed.

From there, we work with you and your 2IC to execute on that plan to ensure you have the support and accountability to drive revenue and scale.
Support you and your 2IC's growth with our Scaling Support Platform™.

An ecosystem of peers, advisors, and tools to help you and your 2IC walk out your roles effectively and support scale within your company.

Here, you get the support you need to scale your company as CEO, freeing you up to drive revenue by building new products, partners, and promotions for your company; Meanwhile, your 2IC counterpart focuses on driving profit via projects, performance, and systems within the day-to-day.
Are you ready to stop playing Chief Everything Officer and become an Unleashed CEO?
It's time to shift your identity, regain time in your day, and scale your business.